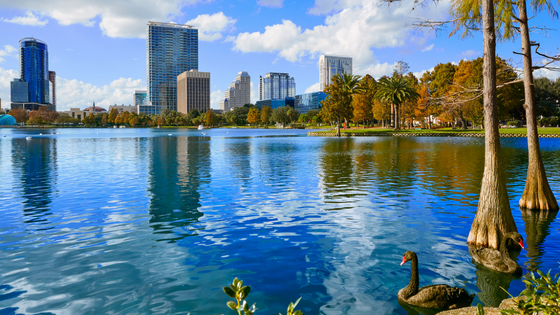 Thinking about moving to Orlando? Here are 4 of the top reasons why you should consider buying a home in Orlando in 2018.
1. Cost of Living
Snowbirds aren't just escaping the cold when they come to Florida, the attractive cost of living also plays a large part in the decision to migrate south.
Much like the weather, beautiful beaches and attractions, the tax climate is highly favorable. Florida doesn't have a state income tax which means if you have a high income, you'll save considerably in taxes by moving to Florida.
There's also the homestead exemption so if you're planning to buy a home in Florida, you can claim the first $50,000 of value as a property-tax break if you designate the home as your primary residence. Where you buy matters though; if you purchase in an area with school-district taxes, the homestead exemption is limited to $25,000.
In addition, property taxes fall below the national average, remaining around .97%. Sales tax in Florida is about 6.5%.
Property taxes are calculated using a property-value assessment which won't increase more than the annual change in the Consumer Price Index.
Owning a home in Florida won't burden you down with outrageous property tax increases, allowing you to build equity the longer you own it.
2. Strong Economy
Florida isn't just a hot spot for retirement. The millennial masses are migrating to Orlando to start new careers in tech, tourism and other booming industries.
Orlando has experienced a 7.2% three-year population growth and 4.4% annual job growth which isn't surprising as the unemployment rate remains below the national average at 4.4 percent.
Orlando recently earned the #3 spot on Realtor.com's 2017 Top Cities for Millennials ranking, following only Salt Lake City and Miami.
"High job growth in markets such as Orlando, Seattle, and Miami, and the power of affordability in places like Albany and Buffalo are making these markets magnets for millennials," says Javier Vivas, manager of economic research for Realtor.com®. "But what really stands out is that all these markets already have large numbers of millennials, which translates into strong populations of millennial homebuyers."
The average share of the 25 to 34-year-old population in the U.S. is 13 percent, but in these top markets, the average share is 14 percent. In Orlando, millennials account for 14.6 percent of the total population.
Downtown Orlando has remained a top area for millennials due to easy access to public transportation, shopping, and dining as well as a convenient proximity to employers.
3. Increasing Home Values
If you're planning on becoming an Orlando homeowner, you'll be happy to know that Orlando home values increased by $15,000 in 2017, a 7.7% increase.
In fact, the City Beautiful increased more than the national average of $12,500 in value gained since last October.
Orlando became one of the best cities in the country for investing in residential real estate in 2017, according to Forbes. The magazine named Orlando the third-best U.S. market in which to buy a home this year, crediting the city's population and job growth as factors in the ranking.
4. No Shortage of Things to Do
Orlando is the heart of tourism, so it's no surprise that the list of things to do seems endless.
Winter Park hosts an amazing farmer's market every Saturday. More of a sports fan? Grab some friends along to cheer on the Orlando Magic at the Amway Center or the Orlando City Soccer Club at the Orlando City Stadium!
Check out Trip Advisor's list of the top 10 things to do in Orlando. From theme parks to festivals to the nearby springs, there's something for everyone in the family.
___
Ready to start your home search?
We're here to guide you through every step of the homebuying process. Give us a call at 407-925-8404 today and we will help you find the perfect home in Orlando and the surrounding areas!